The Hines 100CNC-B located at a NASA rocket engine test facility bends parts for the space program.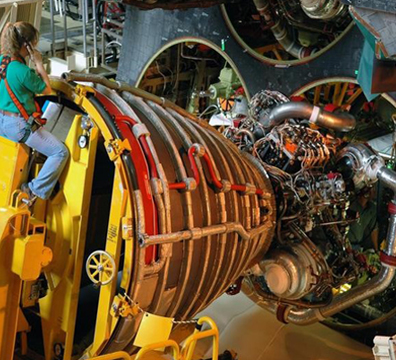 Hines Bending Systems, Inc. was founded in 1975 in Chicago, Illinois. In 1983, Hines Bending Systems moved its corporate headquarters to Fort Myers, Florida. Jim Hynes, Hines Bending's President and CEO, founded the company on the belief that customers' pipe and tube bending needs were not being adequately addressed. As a result, he built a manufacturing facility that today supplies hundreds of global brands with tube and pipe bending machines.
In 1975, Hines Bending sold one type of mandrel bending machine. Today, Hines Bending sells nearly 100 different models of tube and pipe bending machines. Hines has led the tube and pipe bending industry with innovation in traditional numerically controlled (NC) and computer numerically controlled (CNC) Mandrel Bending Machines, as well as in the introduction of its Induction Bending Machines, Multi Stack CNC Push Bending Machines and Roll Benders.
OEM
Hines Bending Systems is an Original Equipment Manufacturer (OEM). We design, engineer, test, build, sell, install and service all of our machines. There is NO middleman, NO "equipment supplier." Being an OEM means you receive huge benefits.
Quality – We manufacture superior quality tube and pipe benders. Our tube and pipe benders exceed industry standards.
Support – Call us, 24/7. We are your partner, and if you have any challenges, questions or problems, we respond immediately.
Longevity – Embarrassingly, we don't know what the words "planned obsolesce" mean. Our machines are built to perform for decades of heavy production.
Warranty – Absolutely. Complete the warranty registration form and also visit our terms of service to learn more.
Investment – The Best. Time and again, the purchase of a Hines tube or pipe bender delivers the highest ROI in the industry. Because we own the company, we are able to pass tremendous savings to you; those savings drop directly to your bottom line.