Are you looking for a used Exhaust Pipe Bender for sale?  You are not alone in your search.  As a matter of fact, buying a used Exhaust Pipe Bender is an economical way to start using a pipe bender.   And, moving forward you become part of a unique and profitable industry.
Advantages of an Exhaust Pipe Bender
As you have likely already experienced, outsourcing exhaust bends can be costly and timely.  The supply and demand for aftermarket exhaust bends in particular has been steadily increasing over the years.  This puts more companies like yourself in a position to wait longer for their exhaust bends to sell individually in an online marketplace like eBay.  The companies competing for your business in the exhaust industry also drives the price up for these exhaust bends with the supply and demand.  This effects your bottom line at the end of every day.  Bringing an Exhaust Pipe Bender in house gives you overall control of your production and production timeline. In addition, you are able to control the quality and customization required for your exhaust bends.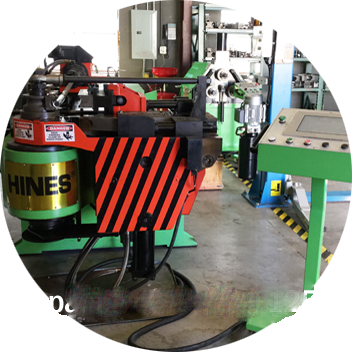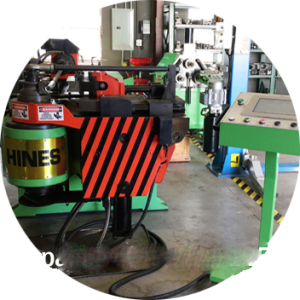 It can be an obvious point that finding a used Exhaust Pipe Bender for sale can meet your bending needs without breaking the bank.  An initial lower cost purchase can expand your business growth and expand your marketplace potential.  Another advantage to purchasing a used Exhaust Pipe Bender is maximizing a return on the investment in a shorter period of time.  However, buying a used Exhaust Pipe Bender at the best price possible is only one key factor to consider.  Equally important is to find a used Exhaust Pipe Bender for sale without sacrificing a good quality bender in the process.  This can be a bit more challenging.
Finding an Exhaust Bender
How do you find a used Exhaust Pipe Bender for sale and get the best of both worlds? Save money on the initial purchase AND get a quality exhaust bender?  Firstly, purchasing a used Exhaust Pipe Bender direct from the manufacturer is a great start.  At Hines Bending Systems used Exhaust Pipe Benders are sold as our own demo machines with low hours.  Hines Bending Systems inspects the used Exhaust Pipe Benders and makes sure they are in good working condition prior to putting them on the market for purchase.  As a result, this provides a level of confidence of a used Exhaust Pipe Bender's condition and operation. This can be a challenge when purchasing from a dealer or from an internet machinery supply source.
The Used 200 CNC Demo Machine and the Used BendPro G2 CNC Control Demo Machine are perfect for automotive, marine, and aircraft exhaust.
SPECIFICATIONS OF THE 200 CNC-B
Capacity: 2.5″ OD x .200 Wall
Maximum Feeding: 55ft/min
Maximum POB: 28r/min
Standard Maximum Radius: 12 inch
Maximum Bend Angle: 190 degrees
Operating Pressure: 2000 psi
Reservoir Capacity: 175 US gallons
Approximate Weight: 10000lbs
Approximate Dimensions: 15′ L x 5′ W x 4.5′ H
Voltage: 220 volt/440/3 Phase/60Hz; 50Hz Optional
Bend angle accuracy +/-: 0.1 degree
Bend arm speed: 5 rpm
Maximum tube length over mandrel: 8ft
Motor: 25HP
Exhaust Pipe Benders are used for a variety of exhaust applications and markets. To name a few, marine exhaust, automotive exhaust, aircraft exhaust, and large truck exhaust.  Hines Bending Systems' used Exhaust Pipe Benders for sale allow you to achieve the high quality exhaust pipe bends that are required for the exhaust market, above all.  Therefore, when used exhaust benders are available for sale in the Hines Bending Systems inventory it is smart choice to consider and take advantage of a lower cost exhaust bender for all the reasons discussed.
In short, call or email Hines Bending Systems today and ask about the used Exhaust Pipe Benders for sale we have available now.   We will help you every step of the way.  From installation to pipe bender training to continued support for the life of your exhaust pipe bender.
© Hines Bending Systems, Inc.
Used Exhaust Pipe Bender for Sale